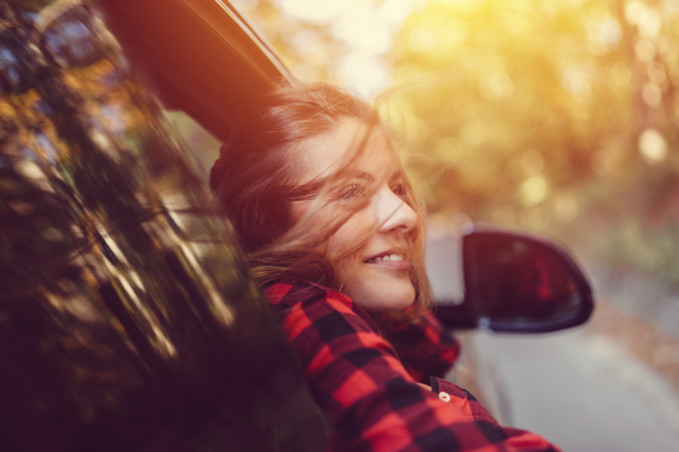 Thanksgiving is just around the bend, and we could not be more excited to see friends, family, and of course, feast on delicious dishes. But before we fill up on grandma's homemade pumpkin pie, we must give thanks to the auto innovations that allowed us to get to her house in the first place. Join us as we take a trip down memory lane and remember some of the great auto achievements over the years.
1864 – FIRST GASOLINE POWERED COMBUSTION ENGINE
The beginning is never a bad place to start. Siegfried Marcus first created the engine, which he placed on a pushcart, setting the standard for all cars to come. Although, many maintain the first true vehicle didn't come about until 1886 when his partner, Karl Benz, developed a petrol/gasoline-powered automobile. It's true what they say: it's not always who finishes first, but who finishes best.
1908 – AUTOMATIC TRANSMISSIONS BECOME STANDARD
Just ahead of mastering the gasoline-powered engine and mass producing vehicles, the next significant development came at the hands and head of Henry Ford's famous Model T. Unlike most vehicles of that era, the Model T featured a simple, two speed auto transmission thought to be easier to control than manual transmissions at the time. It even included a reverse option, which until then had not been mastered. It's no mystery that Ford's efforts cleared the road ahead for a century of auto advancements.
1951 – POWER STEERING GIVES POWER BACK TO DRIVERS
Power steering gives drivers the power to maneuver the car by augmenting steering efforts and adding controlled energy to the steering column, which requires less effort to turn. While the first power steering system came about in 1876, it wasn't until Chrysler introduced the first commercially available power steering system that things really started to take a turn for the better. Prior to 1876, changing lanes was practically an all-day affair, and literally impossible for some.
1958 – SEAT BELTS CLIP INTO PLACE
There were many versions of the seat belt, or safety belt, dating all the way back to the mid-19th century, but it wasn't until SAAB first introduced them as a standard feature in 1958 that they became commonplace. Prior to that, car manufactures simply offered them as an option. The seat belt is one of the few auto innovations to go relatively unchanged and has saved countless lives over the years. Always wear yours, and remember to follow these rules for staying safe during the holidays.
1967 – AIRBAG DEVELOPMENT EXPLODES
Like most of the auto innovations we've discussed, the initial concept for airbags originated in 1941, but it took more than 25 years to figure out its best use. In 1967, Allen Breed invented the airbag crash sensors which detected when an accident had taken place and deployed an airbag in under 30 milliseconds. This set the standard for airbag advancements to come, and in the 1990s airbags became widespread in American cars. They have only continued to improve, and in 2013, Tesla Model S offered the most protection for passengers of any other car on the road.
1971 – ANTI-LOCK BRAKES TAKE OFF
First developed for aircraft use, anti-lock brakes (ABS) offered threshold braking for planes at their maximum speeds. They're designed to give wheels more traction while braking, and prevent the wheels from locking up or skidding. It wasn't until 1971 that a true, computerized ABS system found its way into commercial vehicles. Chrysler's Imperial came fully-equipped with ABS and laid the foundation for future copycats. Now, ABS is on almost every car and safely stops accidents all across the world.
2008 – ELECTRIC CARS START TO SURGE
For the most part, the engines (and the emissions included) have remained relatively unchanged. That is, until the early 1990s when the California Air Resources Board began pushing for more fuel-efficient vehicles in an effort to lower emissions and better then environment. Many manufacturers developed initial electric options, but were eventually discontinued. Tesla was the first to offer a highway legal all-electric vehicle in 2008, and they've been lighting up the streets ever since.
2013 – THE FUTURE OF AUTONOMOUS CARS IS HERE
Even with tests dating back to the 1920's, autonomous cars were long thought to be something we'd only see in movies. In 2013, Vislab proved us all wrong with BRAiVE, a vehicle designed to move with the flow of mixed traffic and could handle navigation on public roads. This opened up an entirely different world for transportation, and was the first spark that lead to five states allowing the testing of fully autonomous vehicles in public.
The history of the automobile started a little more than a century ago and already we've seen countless innovations. And we're sure to see countless more because the fact is it's constantly evolving. Which, for a car-related company, is really exciting. We can't say where the road ahead will take us, but we're just happy to be along for the ride. And as things continue to advance, we'll continue to restore the rhythm to our customer's lives.