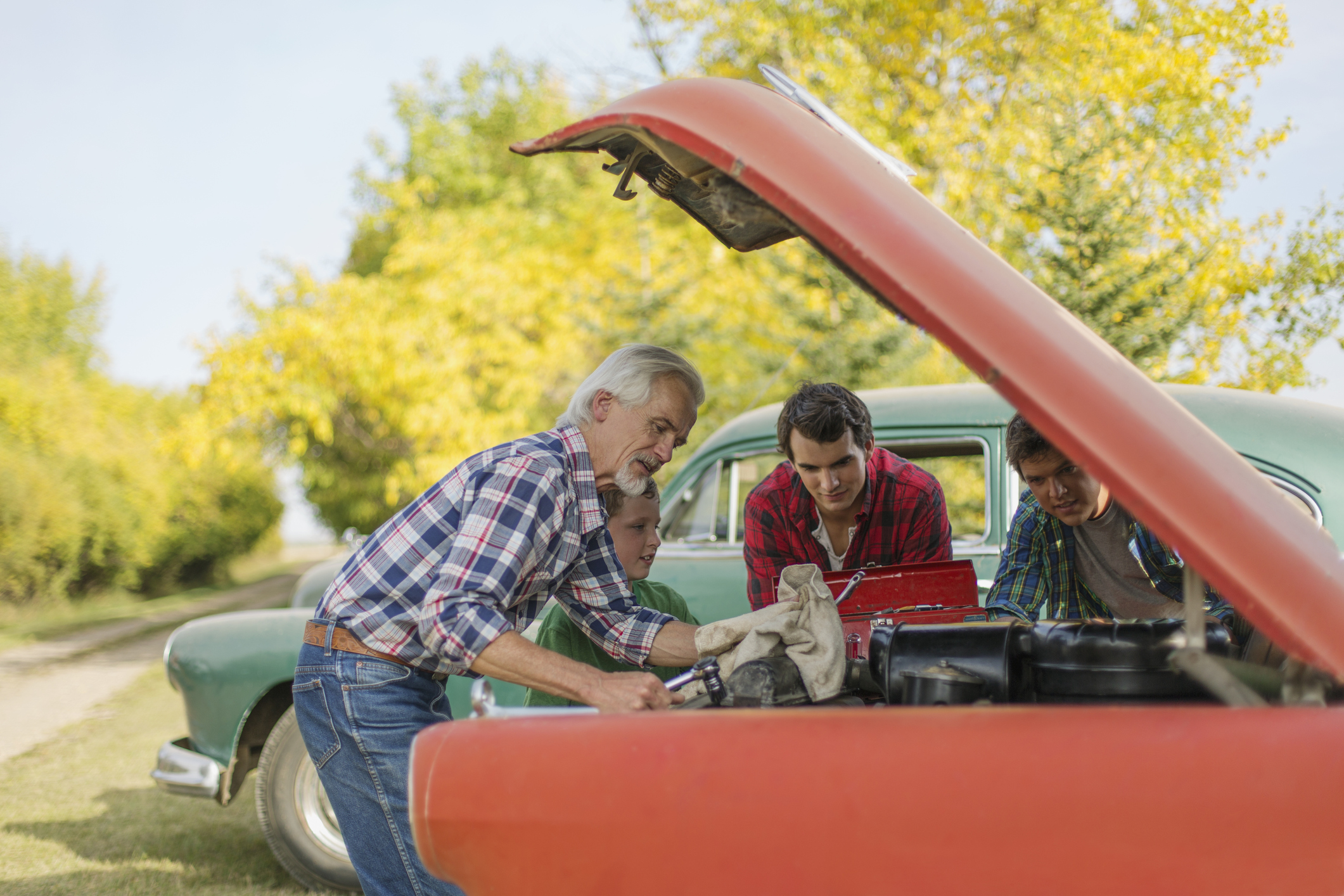 Mother Nature has finally begun pulling out her finer shades of Fall, and we could not be more excited. But before you head out for your Fall foliage road trip, let's take a quick peek under (and over) the hood to ensure everything is in working order. So, to honor October as Fall Car Care Month, and to help get you ready for the road ahead, we've put together a simple checklist of Fall checkup tips. Let's start it up.
CHECK THE FLUIDS
Everything. Check everything. From the big stuff, like engine oil, power steering fluid, brake fluid and transmission fluid, to the little stuff, like windshield washer fluid and antifreeze. It's all incredibly important and helps keep your car from falling victim to some of Fall's worst weather conditions.
CHECK THE WIPERS AND LIGHTS
Assuming you checked the wiper fluid in the previous step, it's now time to check the wipers themselves. Make sure they're working properly and wicking away water efficiently. You'll also want to check your lights: both interior and exterior. Because the best way to stay safe is to make sure you can see and be seen.
CHECK THE TIRES
While it's important to do an initial pressure check, you'll want to continue checking your tires all Fall long. Due to the drastic temperature changes, it causes tire pressure to fluctuate. Also, using the Penny Test, check that you have enough tread to go for miles. Look for uneven wear and tear as it means it's time for a wheel alignment. Basically, you wouldn't leave the house in the rain without good boots, right? The same goes for your vehicle.
CHECK THE BATTERY
Although it's an easier box to check, the battery is often overlooked. People assume since their car started up in the morning, it'll start up tonight, right? Wrong. Look for a clean connection, screws are tight and the battery is corrosion-free. If you're having a tough time turning over, take it to your local auto parts store for a voltage test asap. Trust us: the last thing you want to do is get stranded without any juice.
CHECK THE HVAC SYSTEM
A properly working HVAC (heating, ventilating and air conditioning) system is not only vital to your comfort within the vehicle, but also comes in handy when you need to defrost the windshield. Basic HVAC checks consist of turning the heat on full-blast and ensuring it heats up in a timely manner. Also, check that the heating and air conditioning flows freely and efficiently. If you notice any hiccups in your HVAC, please consult a mechanic.
CHECK THE BRAKE SYSTEM
This one you probably won't be able to check without a professional's assistance, but if anything, that speaks to its importance. Maintaining properly working brakes will not only increase the lifespan of your car, but could save your life down the road. So before you speed off into the Fall horizon, pump those brakes and get them checked.
You're all set: everything you need to drive through Fall with flying colors! For a more in-depth checklist, feel free to consult the Car Care Council's "Car Care Guide." After all, it's one of our go-to guides.