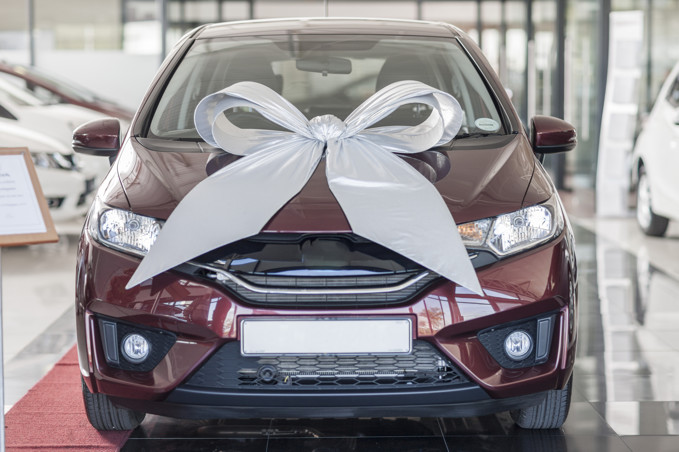 Well, we can officially say it: new year, new us. And while 2016 was great to us at Caliber, we're prepared to watch it fade away in the rearview, so we can get excited and focus on the road ahead. What will we have in store? Will we keep our New Year's resolutions for the road? And better yet, what new cars will we see cruising the streets? Whether you're looking for a new car, or just like looking at them, be on the lookout for some of these new rides hitting the streets in 2017.
While the Civic Sedan sales are already cruising to new heights, the weight of the small-car space still rests firmly on the back of a hatchback model. And come April, Honda plans to have that – and then some. Still keeping with the Civic Sedan look and feel, Honda has styled the Civic Hatch to sport a leaner hatch model as to not completely depart from its four-door friend. Where it really revs up is in the dual exhaust, big rear diffuser and underbody aero kit. Not to mention the option for a turbo 1.5-litre engine. Can you say, "vroom, vroom?"
If you were to take the Subaru Impreza, lift it up, keep the all-wheel drive and throw a sharp new paint scheme on it, you'd have the Subaru XV. The new XV model, due midyear, aims to set the pace for new impressive small sedans. Features include "Eyesight" activation which aids drivers, acting as an extra set of eyes on the road. And the new XV should match the Impreza's annual services which makes for cheaper servicing costs. All-wheel drive and an all-around great look? Be ready for all eyes on you.
In Australia, Toyota already dominates the SUV space. But they're about to make an even bigger statement with their latest small on/off-roader – the C-HR. The five-door "Coupe-High Rider" SUV sports a sleeker than sleek design, and will rock both front and all-wheel drive to compete with the Mazda CX-3s of the world. Plus, Toyota plans to make adaptive cruise control and autonomous emergency braking standard. Buckle up, Australia – things are about to get heaps cooler.
Rolling into the new year with some serious style, the 2017 Toyota Corolla aims to shake things up. Here to smoke any preconceived notions about the Corolla, the new model comes equipped with revised styling, fresh features, hatchback body style and not to mention a new standard of safety. Addition of autonomous emergency braking comes standard, whereas competitors only include it on top models. It's safe to say this isn't your grandma's car anymore.
Sure, the likelihood of seeing a Bentley blazing down the boulevard is pretty slim. But we can dream, can't we? And the new Bentayga is certainly a dream. For Bentley's first-ever vehicle of its kind, they've definitely made good on their promise to redefine the SUV space by creating the fastest, most powerful and most luxurious SUV yet. Inside, all the gadgets you could ever need surrounded by handcrafted wood interior; outside, gold paint job that does nothing short of glitter. The Bentayga is certainly setting – and raising – the standard for SUVs.
There you have it: all the rides we're excited to see in 2017. Granted, these are just some of our favorites so far; we hope you will ride shotgun as we stay on the lookout for new advancements in the auto industry. It's always exciting to see how this remarkable industry continues to evolve, and, of course, exciting for us to see all the new vehicles we get to work on. Whether it's one of these new whips, or your old faithful, if something happens, we'd be happy to restore the rhythm of your life.