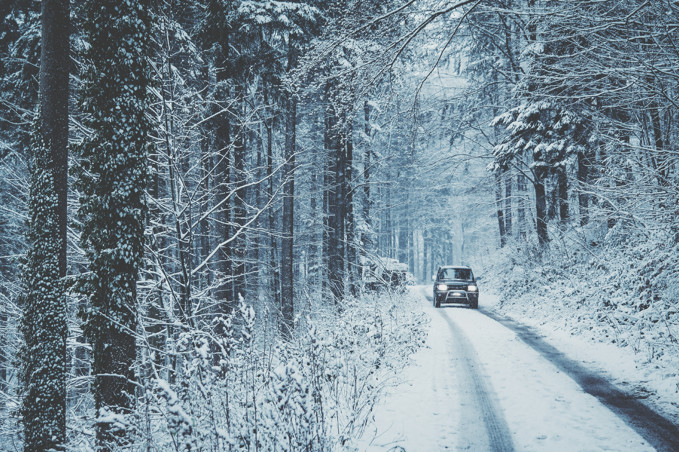 Two weeks into the New Year, and already things are kicking into high gear. And after catching up on taking the decorations down, knocking out any leftover work (and holiday leftovers), we're about ready for another break. But seeing as George Washington's birthday isn't for another month, we're going to have to make the most of the weekends we have available. That's why we're packing up, double checking our winter checklist and piling in for some of the best winter road trips this side – and that side – of the Mississippi.
LAKE TAHOE, NEVADA
When most people think Lake Tahoe, they think skiing; and while they aren't wrong, we want to talk about the actual lake that gets overshadowed by the mountains of powder. Only a 27-mile drive, Lake Tahoe is packed with plenty to do; from ice fishing and spectacular sightseeing to trekking the winter trails and gazing into some of the planet's clearest water. No matter what for which you're in the mood, be sure to pack your camera, snacks and plenty of hot cocoa because you're in for one of the best locations for winter wanderlust.
GREAT SMOKY NATIONAL PARK
Don't let the fiery name fool you; Great Smoky gets plenty of cold weather. Find your way through a flurry of snowflakes, taking time to take in all Asheville, North Carolina has to offer: wintery alpine wilderness, snow-covered trails and frosted forests as far as the eye can see. And if you're feeling particularly adventurous, you can even go skiing in Tennessee. Yes, you read that correctly; Ober Gatlinburg resort is known for some of the best – and only – skiing in Tennessee.
ICE CAVES, MINNESOTA & WISCONSIN
Ancient glaciers sculpted their way through the earth to create palatial glacial cliffs that towered over Lake Superior. And now, thousands of years later, you can still see these Mother-Nature-made miracles. With 240 miles of snow, ice and everything nice, this trip treks from Duluth through Wisconsin to visit the ice caves of the Apostle Islands National Lakeshore. Walk through a world of icicles and other frozen feats of art sure to make anyone say, "Cool!" But, as you may have guessed, you'll want to pack plenty of layers because it can get a little chilly.
NORTHERN EXPOSURE, ALASKA
Hey, if you can make it up there, we recommend it. This 226-mile, mountain-shrouded road trip will make you feel like a real Ice Road Trucker. Heading out of Anchorage, wind your way through snowy peaks, world-class fishing stops and plenty of sights to see. But don't let this little mountain getaway fool you; it's still got plenty of white knuckling twists to make your stomach turn.
We hope this has given you some ideas for your next winter getaway. Remember: it doesn't have to be a week long to be worthwhile. Just as long as you have some good friends and good tunes, you're sure to have a good time ahead. And, as always, if the things get a little too slick and you happen to slip off the road, we'll be there to restore the rhythm of your life and get you back on it.